Home of the 363rd Fighter Squadron
The Oroville Army Airdrome trained Army Air Corps pilots to fly the Bell P-39 Airacobra during World War II.

The P-39 was unique in several respects:
Engine was behind the cockpit.

Driveshaft ran between the pilot's legs to the prop.

Main cannon fired from the hub of the propeller.

A ceiling of only 10,000 ft. (3,000 meters).

First US fighter with retractable landing gear.

The P-39 was reportedly tricky to fly.

The British declined a US offer to supply them with P-39s.

The Russians accepted the US offer and mastered the low altitude P-39 to effectively knock out Nazi tanks.
Airport Site

The Oroville Airdrome is now the Oroville Municipal Airport, located west of Oroville on Chuck Yeager Drive, near the intersection of Highway 162 (Oroville Dam Boulevard West) and Larkin Road.
(Airport history)
Claim to Fame



Chuck Yeager trained at Oroville Army Airdrome - later became the first man to break the sound barrier. While stationed in Oroville Mr.Yeager met, dated and married Glennis Dickhouse, a girl from Oroville High School's Class of 1943.
Oroville's Tuskegee Airman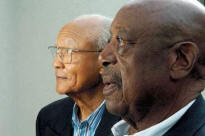 Samuel Broadnax (September 24, 1925 - October 7, 2009) grew up in Oroville and was a member of local Boy Scout Troop 29. He attended Oroville Union High School. Then, two months into his Senior year in 1944 he enlisted in the Army to become a Tuskegee Airman.
Read more of Sam's story
here
.
U2 Crash in Oroville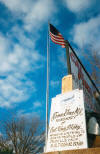 Captain Randy Roby lost his life in an attempt to steer his disabled U2 aircraft away from homes in Thermalito. A civilian, Jeri Vering, was killed nearby by the falling aircraft debri while walking to her parked car at the office of the Oroville Mercury Register. A memorial has been placed by Stu Shaner and his granddaughter, Jessica Rose, near the site where Captain Roby was found with his unopened parachute. The permanent memorial for Captain Roby is located on the northwest corner of Nelson Avenue and Del Oro Avenue, on CALFIRE property.
B-50 Crash near Gridley, 1953
A B-50 bomber, based at Castle Air Force Base, crashed near Gridley, Butte County, CA, killing the entire crew of 12. details
Military Air Crashes near Oroville
Date
Aircraft
Pilot
Crash Location
14 MAY 1943
P-39N-O
Carter, Lloyd C
4 Mi NW Oroville
22 AUG 1943
P-39
Simpson, Edward K
5 Mi W Oroville Army Airport
22 AUG 1943
P-39Q
Hubbard, Glenn A
5 Mi W Oroville Army Airport
23 AUG 1943
P-39Q

Mickelson, Harold J

2 Mi N Army Airdrome
23 AUG 1943
P-39Q
Troup, Donald S
Army Airdrome
25 AUG 1943
P-39Q
Browning, James W
Oroville, CA
31 AUG 1943
AT-6A
Wellman, James I
Oroville Army Airdrome
3 SEP 1943
P-39Q
Sheppard, Keith S
Army Airdrome
18 SEP 1943
P-39

Soens, Donald A

10 mi. NE Roseville
24 OCT 1943
B25

Sikking, Chester B.

3 Mi W Richvale
24 OCT 1943
B25

Vedder, Norbert F.

3 Mi W Richvale
24 OCT 1943
B25

Lawlor, John F.

3 Mi W Richvale
28 DEC 1943
P-39Q

Weidman, Hubert L

2 Mi E Butte City
29 DEC 1943
P-39Q
Green, Arthur L
Oroville AAF, CA
9 JAN 1944
P-30N
Dye, Rufus Jr
3 Mi SE Oroville AAF
12 JAN 1944
P-39Q
Caporal, James E
13 Mi W Gridley
13 JAN 1944
P-39
Solberg, Henry L
12 Mi NW Oroville
13 JAN 1944
P-39

Watts, Wendell E

12 Mi NW Oroville
14 JAN 1944
P-30NO
Gerigk, Chester
Oroville AAF, Runway 30
1963
Helicopter

Birch, Richard L.

Near Feather River, South of lower bridge
1963
Helicopter

Cowart, Charles

Near Feather River, South of lower bridge
1963
Helicopter

Davis, Edward D.

Near Feather River, South of lower bridge
1963
Helicopter

Keuht, Loyd R.

Near Feather River, South of lower bridge
1963
Helicopter

Williams, Clarence A., Jr.

Near Feather River, South of lower bridge
7 AUG 1996
U-2

Roby, Randy D., Capt.

Nelson Ave & Del Oro Avenue, Oroville, CA
7 AUG 1996

Jerri Vering

(Civilian ground casualty)
Oroville Mercury parking lot on 2nd Street

Individuals in RED died in crashes
Crash data partly provided by Aviation Archaeology Investigation & Research