Oroville Mercury Register February 13, 1952
Oroville Navy Pilot Killed in Korea Crash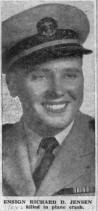 Mr. and Mrs. Delbert Jensen, of West C street , have received a telegram from the Department of Defense informing them that their son, Richard Delbert, was killed in a plane crash in Korea Monday. Ensign Jensen , a 1946 graduate of Oroville Union High School, was a Navy pilot. He was serving with Fighter Squadron 653 aboard the aircraft carrier U. S. S. Valley Forge. He joined the Navy in June, 1946, just a few days following high school graduation, and served three years before going to Pensacola, Fla., for flight training. He received his ensign's commission Sept. 15, 1950, and was stationed at Alameda for one year before going overseas.
Missions Over Korea
Mrs. Jensen said today that a recent letter from her son stated he was at a rest camp in Japan after "8 or 10" missions over Korea. The Jensen's have another son, Jimmy, serving as a Navy storekeeper. He has been in Korea since July, 1950, about a month after the war broke out. Mr. and Mrs. Jensen said there is a good possibility Jimmy will be home soon. Besides his parents and his brother, Ensign Jensen is survived by two sisters, Mrs. Jack Bartlett of Acacia Ave and Miss Donna Jensen, an Oroville Union High School Student.
Part five of five installments of, "Oroville's Not-Forgotten Veterans Frank and John 'Jack' Stowell" by Daryl Autrey.

(We left off last week with the USS Isherwood, DD-520, had been attacked while near Japan)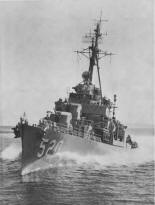 Sailors went below decks and shored material against the hole torn through the ship's hull, stemming the flow of water enough so that pumps could keep the ship afloat.
A couple of days later the Captain requested Frank's presence in Officer's Country, normally out-of-bounds to enlisted men. Fearful, Frank wondered what he had done. He knew he was going to be chewed out for something. Facing the Captain he was told, "I'm awarding you a Purple Heart." "What's that for?" Frank asked. "Both your legs are banged up, aren't they?" "That's what for." "The other award I'm giving you is the Silver Star." "What the Hell's that for?" Frank asked again. "You are a machinist. The things you did to help the doctor were well outside your skills as a machinist." "Oh, I guess I'll take it." said Frank. He never got any official credit for his awards because they were never documented. He gave his medals away somewhere in the course of his life. The medals never meant much to him after losing so many of his buddies.
On April 5, 1945 the Isherwood made her way to the small atoll of Ulithi where she was put into a floating drydock. A large patch was welded over the hole in her hull and one of her damaged screws was removed and lashed to the deck. After a short stop in Hawaii the Isherwood held a 5-degree rudder to compensate for the missing screw on her way to Mare Island, Vallejo to be repaired. The war was over for Frank and his ship, June 3, 1945.
If you remember we started out with Frank's brother, Jack, who was lost at sea on the heavy cruiser Houston, this is what happened. 28 February, 1 March 1942. The heavy cruiser Houston and Australian light cruiser Perth engage a force consisting of three Japanese cruisers and nine destroyers in the Battle of Sunda Strait in the waters off Java. Torpedoes and gunfire from the Japanese heavy cruisers Mikuma and Morgami ravage the two Allied vessels, sinking Perth in one hour and then turning their attention to Houston, whose crew fights headway is stopped by torpedo hits and gunfire, a shell burst killing her commanding officer, Captain Albert H. Rooks, who is posthumously awarded the Medal of Honor. Houston sinks in the early morning hours of 1 March. Only 368 members of her crew of 1,000 men survive the action, and are captured by the Japanese."
Stu's Notes: Captured by the Japanese for many was a fate worse than death. At least 44% of our men held by the Japanese died in the most terrible of ways. Our Oroville Veterans Memorial Park in the works now for over five years will move forward now, much faster. We've gone through so many hoops there's not many left. We have done our part; let's hope the rest of Oroville does theirs. Country Crest is going to put on a fund raiser for us soon, hopefully others will follow.