Oroville Mercury Register
1943
SERGEANT PEPPER MARTIN WITH BOMBING SQUADRON
Sergeant Albert (Pepper) Martin, 27, son of Mr. and Mrs. Pete Tufoni, who is with a Bomb Squadron in New Guinea, doesn't look as if the war is getting him down. He weighs nearly thirty pounds more that he did when he entered the service and hasn't lost a pound since he was sent overseas last June. Martin is a radio technician and photographer and writes that he likes his work but he misses home, his parents and the good Oroville oranges. But most of all he misses his wife Thelma, whom he married last May in St. Louis. Martin is a graduate of Oroville high school and earned the soubriquet, Pepper, because of his prowess at baseball while there and as a member of Oroville Olives baseball team. He was also pitcher for the Log Cabin soft ball team.
Part three of "Oroville's Not-Forgotten Veterans Frank and John 'Jack' Stowell" by Daryl Autrey. (We left off last week with Frank having reported to the USS Isherwood, a picket ship)
Frank Stowell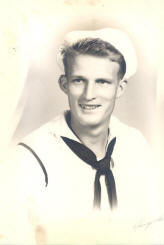 With the best of intentions of staying out of sight, the enemy occasionally discovered them. Between Okinawa and Japan a group of seven Japanese planes found the Isherwood and were determined to put her out of action. While the men of the Isherwood fought back with antiaircraft fire, their Captain sent a radio call for assistance. Out of nowhere came three Marine Corsairs, most likely from a carrier over the horizon, and shot down five of them. The two enemy planes left in the sky headed home. "Those Marine pilots were the best", Frank remembers. One of the enemy flyers was known affectionately as "Washing Machine Charlie". Charlie wasn't a person. He was a type of aircraft. He came over the horizon from God-knows where. "You could hear him coming with that rattley-banging engine before he ever got to us" Frank remembers. Up went the anti-aircraft fire trying to bring Charlie down, but he always flew right through it, tracers and all. But Charlie wasn't the primary problem. Amusing as he appeared, he was a bad omen. The real danger was that he was a spotter plane for submarines in the area. Frank was standing on the fantail (aft end) as the Isherwood was doing flank speed, 38 knots. At Maximum speed the ship shakes and rumbles from the stress of all her machinery being pushed to the brink of falling apart. At this speed the fantail sat low in a trough of water, perhaps eight feet below sea level. Frank suddenly spotted a torpedo coming through the water, directly at his ship. He causally watched as it passed just aft of the fantail, only thirty feet from where he was standing. Death's pursuit of the crew of the Isherwood was relentless.
The USS Isherwood cruised for long periods with little diversion for the crew. They seldom visited ports, once staying out for 19 months. Their replenishment was mostly done at sea. They were always cruising, so their mail had a hard time finding them. While near Okinawa the ship's command got word that the Isherwood's mail was waiting for them near the city of Naha. The Isherwood anchored out and Frank, a Chief, and the Coxswain (boat handler) took a launch to fetch their precious mailbags. As they came ashore, a sniper's bullet from a small caliber rifle hit Frank in the leg. "I want to get the Hell out of here!" Frank said. No amount of mail was worth dying for. They jumped back in the boat and headed back to the ship without their mail. Frank forgot about the small bullet in his leg until his ship returned to Mare Island near the end of the war. He never received a Purple Heart for this wound because he had forgotten about it and it was never documented when it happened. "You don't have time to write things down when they are shooting at you," he says. (to be continued)
Stu's Notes: Bill Fox invited Sherry & Bob Morehouse and me to go with him to the Gridley American Legion Spaghetti Dinner last Saturday. Committee member Jeff Fields is a member there, well I won a very nice microwave oven, donated by Oroville's own A-1 Appliance. Thank you A-1, not only for supporting the Veterans but for my new microwave. On Feb. 3, 2006 I wrote about the merits of the P-47 verses the P51 Mustang fighter. Well my friend, Bill Dunbar, who flew P 47's, sent me a letter I quote "Fighter Jock" who flew both birds in combat. I certainly agree with him. Words of Bill, from "Rip" Collins (34/40) tells it like it is!!! Rip flew both planes in combat and had 12 reasons why the P-47 was a better plane. He said the Mustang was a great plane but he would prefer the P-47 in combat, as it had a more rugged engine, air cooled, could climb higher, out-dive the Mustang, almost 8 tons of weight. Eight 50 Cal. Machine guns verses 6 for the Mustang, bigger cockpit, Air Frame was much stronger in crashes. It was noted as a plane to bring the pilot home. It was affectionately called the "Jug" by it's pilots. Rip say's it is number one. "Juggernaut" in the dictionary is "any large overpowering destructive force or object". Well maybe we can hear from Gen. Chuck Yeager, he flew Mustangs after training in Oroville, most likely in P-39's. I do know both planes sure helped to win the war, we can be thankful for that, and that we had so many brave young men to fly them. Remember, to volunteer to be a fighter pilot, you put your self on the front lines every flight.