Oroville Mercury Register
Mathews Prepares To Become Tank Mechanic
Pfc. John E. Mathews, formerly of Oroville, has completed his basic training at Ft. Knox , Ky., qualifying him for assignment to an armored force school as a tank mechanic. After completion of the course he will become a corporal technician. "I'd rather live in Oroville than any place I have seen yet," he wrote to his parents, Mr. and Mrs. I. S. Mathews of West B Street. He is their only son.
This is part 2 of a story by Committee Member Daryl Autrey from an interview with Frank Stowell.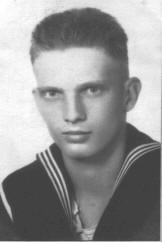 JACK STOWELL
Less than three months after the United States quickly declared war on Japan, the Japanese Imperial Navy began picking off the escorts of The Asiatic Fleet. The Houston, accompanied by four Australian cruisers and ten American destroyers, moved into the Java Sea in a plan to sink the Japanese fleet. After losing three cruisers and two destroyers, all remaining destroyers were ordered out of the area because their torpedoes were spent. The skipper of the Houston was determined to damage the Japanese ships with only the HMS Perth to assist. While making an aggressive move that sunk one Japanese ship and forced three others aground, the surviving Australian cruiser and Houston were cornered. In less than an hour the Australian warship was sunk. Alone now, the Houston held on barely another hour until enemy torpedoes hit her. The Houston rolled over and sank with her crew. Seaman First Class John "Jack" Geisler Stowell, Bugler on the Admiral's staff, went down with the USS Houston and the rest of The Asiatic Fleet.(
We intend to have a Bugler in our Memorial.
)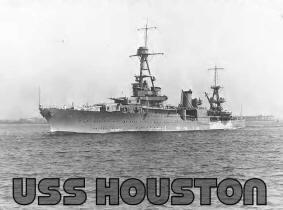 The USS Houston's fate was unknown to the public for nearly nine months. Jack was classified as Missing-In-Action While his parents continued to receive an allotment of $5 each month. Finally Jack was declared dead and the monthly check stopped coming. A year passed after the Stowell family's loss of Jack. The military had a policy against drafting married men with children, but a determined Frank appealed to the Colusa Draft Board to be enlisted in the Navy. They denied his request. Frank then persuaded the head of the Oroville Draft Board to enlist him in the Navy. He left for war. His wife, Gerda, stayed in Oroville to maintain their home and attended two children alone. Surviving was a challenge on the $100 per-month allotment check that Gerda and her children received from the Navy as Frank's dependants.
After training in San Diego and Mississippi, Frank reported to the newly launched destroyer USS Isherwood, DD 520. He applied himself to studying for his Petty Officer rating and eventually he was promoted to Machinist Mate Second Class. The USS Isherwood was a picket ship. That is, she ran as a lone lookout, watching for enemy activity and reporting to command. Running alone had its advantages. It was harder to draw attention than if your ship ran with a large battle group. The down side was that you had little protection. These small destroyers depended on their light armament, speed and cunning to survive. A top speed of 38 knots and a few hours of running time could make a 376-foot ship tough to find. Her picket duties took the crew from Alaska to Iwo Jima. (To be continued)
Stu's Notes: Oroville Veterans Memorial Member, Sherry Morehouse was quite surprised to read Daryl Autrey's story on the USS Houston. Long ago, she remembered how her Uncle was lost at sea from the USS Houston, her dad's brother, Lt. Ernest Hodge, a graduate of Annapolis from Tuolumme, Ca. She remembers as a young girl seeing her Uncle all decked out in his Navy Whites, looking so impressive at a family reunion, then he was gone, lost in the far off South Pacific. The last he was seen he was in the water. Some in the family held out hope for his return. His wife took those thoughts to her grave years later. Many relatives of our MIA's do hold on to these hopes. Her dad and another Uncle tried to join in their brother's honor but were turned down. Eventually a younger Uncle was accepted in the Army, to carry on the fight. More on young Lt. Hodge to come. Our Navy was ill equipped at the start of WWII. We pretty well knew we would go to war, but when Dan Bebbee predicted when in the Mercury two weeks before Dec. 7th, 1941. The Japanese decided that when their Navy was in tip top shape with new ships and weapons. They had intensive training in Night fighting, some think we lacked. In those early days of 1942, we had to play catch up, sad that a lot of brave young men had to die because of this. Who's fault? You be the judge. Pfc. John E. Mathews is my brother in law, John's dad. He did return to Oroville after he returned from overseas. He never wanted to leave home again. He worked for the county as a Mechanic. John, like his dad, was in the service, during the Vietnam war he was in the Navy.