John Dunn
Oroville Cartoonist

Contributed by Phil Ravert
"In my years of collecting Oroville memorabilia and studying Oroville and Butte County history, I came across these cartoons in a batch of papers that came from an elderly deceased citizen of Oroville. I always wondered who Dunn was and now, thanks to Stu Shaner's column, I am now reasonably certain that the cartoonist is John Dunn."
Given to Stu Shaner in a conversation with Alvin Dunn, John Dunn's brother:
"John Dunn was my brother. He worked for Dan Beebe at the Mercury newspaper as a cartoonist in 1939. He left the Mercury to work for Walt Disney. Later, he was employed at Warner Brothers as one of the artists drawing Bugs Bunny cartoons. John Dunn died of a heart attack in the 1960s."

Samples of John Dunn's work - Contributed by Phil Ravert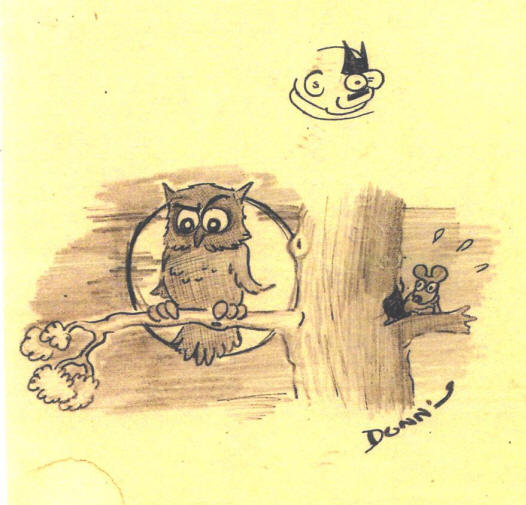 Contributed February 25, 2013 by Robert E. Louton, who grew up in Oroville.
I knew Johnny, his brother known to me as Scotty, and his mother (with a lovely Scottish accent) when we and they lived on Park Avenue. Their house was across the street of what is now located an old locomotive at the bluff edge of an old mining claim. At that time in 1940 Treichler's (spelling?)" Hardware was on the corner and Albert lived across the street from us. I was 7 years old at the time.


My most vivid memory was of the times Johnny would visit during which time Albert, Scotty, Orvid Fields, and I would all meet beneath a particular pine tree down in "the claim". There we would sit in awe as Johnny would begin spinning a long story, usually scary. The next morning all the mothers would report nightmares from all of us kids. Looking at the sparse bio about him it seems he turned his basic talent into a fine career. One thing that is omitted as far as my information goes is that some of his cartoons were regularly published in Stars And Stripes. More research needed. I saw in one bio that he had three children and the date of his wife's death uncertain. Wish I had more to offer but the mind of a seven year old is hopefully a work in progress. At eighty my mind may be regressed to three.

Robert E. Louton, PhD
Beatrice, Nebraska


Oroville Mercury Register, Friday, August 21, 2020
OUHSD Oscar-winning cartoonist inducted into Hall of Fame
By Kyra Gottesman
OROVILLE >> Oscar winner and 1938 Oroville High School graduate John Dunn (Feb. 5, 1919-Jan. 18, 1983) is posthumously being honored as 2020 inductee into the Oroville Union High School District Hall of Fame.
Active in both drama and journalism while at Oroville High, Dunn drew cartoon advertisements for local businesses and had cartoons published regularly in the Oroville Mercury-Register including a weekly cartoon, "Julius Orvilla."
Following his graduation from high school, Dunn worked for Western Pacific Railroad at the Roundhouse in Oroville. He enlisted in the Army immediately after the bombing of Pearl Harbor and served stateside. During his Army tenure he created a cartoon strip featuring "Colonel Wrightflank" that was regularly published in The Army Times.
Following his honorable discharge in 1945, Dunn studied at the California College of Arts and Crafts in Oakland and at the Chicago Academy of Fine Arts in Chicago.
Dunn's career as a cartoonist began in 1952 when Walt Disney hired him. His first story credit "Man in Space" received an Oscar nomination. For the next 31 years, Dunn was a prolific cartoonist, screenwriter and story man. He left Disney for Warner Brothers Cartoons in 1963, where he created "The Pied Piper of Guadalupe", also nominated for an Oscar. Following the closure of Warner Brothers, other agencies Dunn worked for included Hanna Barbera and DePatie- Freleng Enterprises.
In addition to his printed work, Dunn also realized success in animated feature films including "Peter Pan", "The Lady and the Tramp," "101 Dalmatians" and "Daffy Duck's Movie, Fantastic Island."
Dunn's work on "The Pink Panther" movie garnered him his first Oscar as well as the Venice Film Festival Silver Plaque, The Krakow Film Festival Award, and the U.S Golden Eagle Certificate. His creation of the character "The Pink Phink" and hand in crafting the story for a Pink Panther short earned Dunn another Oscar nomination for Best Animated Short in 1964.
During his brief work foray into television, Dunn is credited with the idea behind the successful series, "I Dream of Jeannie," that aired from 1965 to 1970.
Dunn was a native of Coatbridge Lanarkshire, Scotland. He moved to the United States with his family in 1926 when he was 6 years old. He and his wife Marcella were married in 1939 and they had three children. His younger brother, Alvin Dunn, was inducted into the OUHSD Hall of Fame in 2018.
Copyright © 2020 Chico Enterprise-Record. 8/21/2020 Powered by TECNAVIA
If you knew John Dunn, please contact Daryl Autrey 530-589-5199