Jack graduated from Colusa High School, 1938
He lived with his brother and sister-in-law, Frank and Gerda, in Oroville before enlisting in the Navy in 1938.
Fished the Feather River with his brother.
Service # 3759786
Entered the Service from: California
Died: 25-Nov-45 (Officially declared dead)
Missing in Action or Buried at Sea
Tablets of the Missing at Manila American Cemetery
Manila, Philippines
---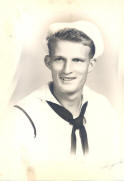 Jack's brother, Frank Stowell, with a wife and two children at home, enlisted in the Navy after Jack was killed in action. Frank served aboard the destroyer, USS Isherwood, DD 520. Frank survived a kamikaze attack on his ship near Okinawa and was awarded a Purple Heart and Silver Star for his efforts in helping the ship's doctor to administer aid to his shipmates in the aftermath.